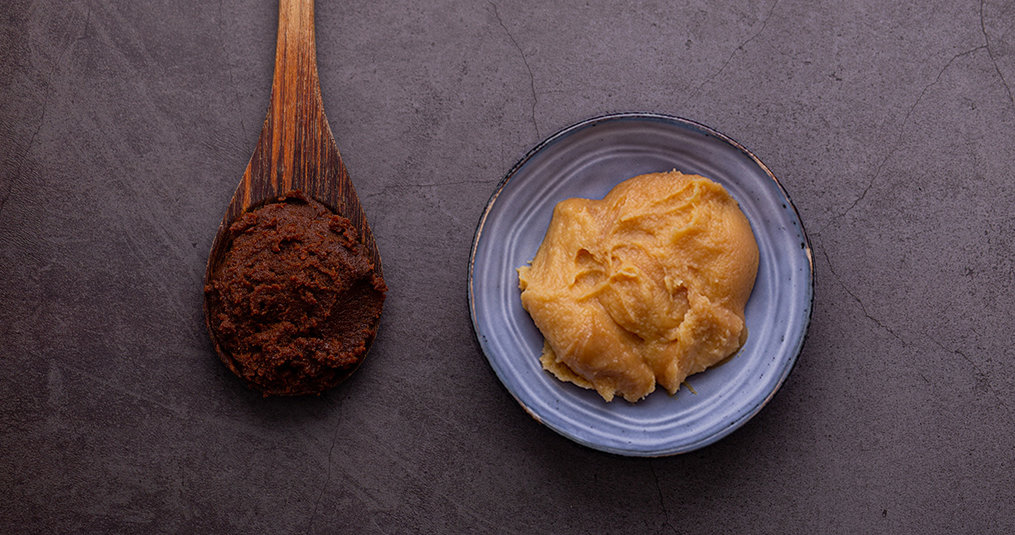 If you're into the Japanese cuisine, its vibrant flavours and authenticity, you've probably heard about miso. The larger-than-life seasoning is a staple in Japan and it's as old as Mount Fuji.
If you're into the extraordinary Japanese cuisine, its vibrant flavours and authenticity, you've probably heard about miso. The larger-than-life seasoning is a staple in Japan and it's as old as Mount Fuji.
The thing with miso is that it's still clouded by mystery. If you're a regular at your local Japanese restaurant, we're sure you've already tried this allusive ingredient. Yet, when it comes to cooking with it, not everyone is so adventurous. Well, that ends today because we're telling you all there is to know about miso. Get ready for a delicious ride!
What Is Miso, Anyway?
Miso is a fantastic, deep-flavoured seasoning and condiment from Japan. Like most things Japanese, this heart-warming paste has its origins in Asia's mainland, in China. Introduced to Japan over 1,300 years ago, today there's no way we could conceive Japanese cooking without it.
Miso evolved from an ancient way of preserving soybeans. Mixing the legume with salt, rice or barley, and the famous koji mould (responsible for soy sauce and sake too!), people left the paste to ferment naturally, increasing its shelf life, while gaining complexity and flavour.
The Japanese noble families considered the speciality product a true delicacy, and from there it permeated down to the working class and even the elite Samurai. Today, you'll find miso paste in every Japanese household, and given its versatility and unique flavour, you can also find it abroad.
Not All Miso Is Created Equal
Out of over one-thousand regional miso variations, two main types capture the seasoning's essence; each evolved in time to adjust to the diverse Japanese cuisine.
Shiromiso or white miso is the mildest and most delicate style. It is the perfect partner for the manicured recipes in regions like Kyoto, where flavour purity is paramount. Light, and slightly sweet, white miso is made of more rice than soybeans and ferments for short periods.
For a legitimate example, try the Kyoto-style KATŌ MISO white miso found here.
Akamiso or red miso is the most intense, saltiest and even funkiest of miso styles. The decadent umami flavours in the paste are thrilling and come to be after extended fermentations. The paste is also made with more barley and soybeans. Enjoy the handmade KATŌ MISO Inaka brown miso here.
Miso Comes in Different Qualities Too
Once you're all excited about miso, then you must choose one; that's quite tricky. There are hundreds, and even thousands of different producers, so how to choose?
For the finest quality, look for miso that contains only necessary, natural ingredients, including rice, barley, soybeans, salt and koji starter. Some might have some veggies, depending on the style, and those are fine too.
Avoid miso labelled with artificial flavourings, preservatives, colourants and other additives. These are the industrial style of miso, and although they might be cheaper, they're not as complex and flavourful as the real thing.
Like the rest of our finely selected products, all miso found in our store comes from authentic, high-quality producers that make miso with time-intensive, traditional methods.
How to Cook With Miso
Cooking with miso is easy. And the more you use it, the more comfortable you feel. It comes without saying miso is the main ingredient in the famous miso soup, a rewarding broth that you can enjoy at all hours in Japan, but miso offers limitless possibilities.
White miso, being delicate and beautifully nuanced, it is ideal to amp-up soups. It can elevate the flavour profile in dressings and light sauces, too, and makes a wonderful marinade for fish.
Red miso is bold and intense, meaning it's the perfect seasoning for hearty food, rich broths and meat. You'll fall in love with red miso after marinading grilled red meat and roasted poultry with it.
Make Miso Your Secret Ingredient!
Cooking with miso is tons of fun. It opens the door to endless flavour possibilities, adding depth and complexity both to straightforward everyday meals and lavish recipes reserved for special occasions.
Miso is not the most popular seasoning on the planet, only because not everyone knows about it, but it's gaining popularity fast. Make miso your secret ingredient and swoon your guests off their feet with the unmistakable Japanese essence.
If you enjoyed this article, browse around and explore our other features, and most importantly, give our authentic Japanese products a try. Generations-old Japanese customs and culinary traditions are just a few clicks away.