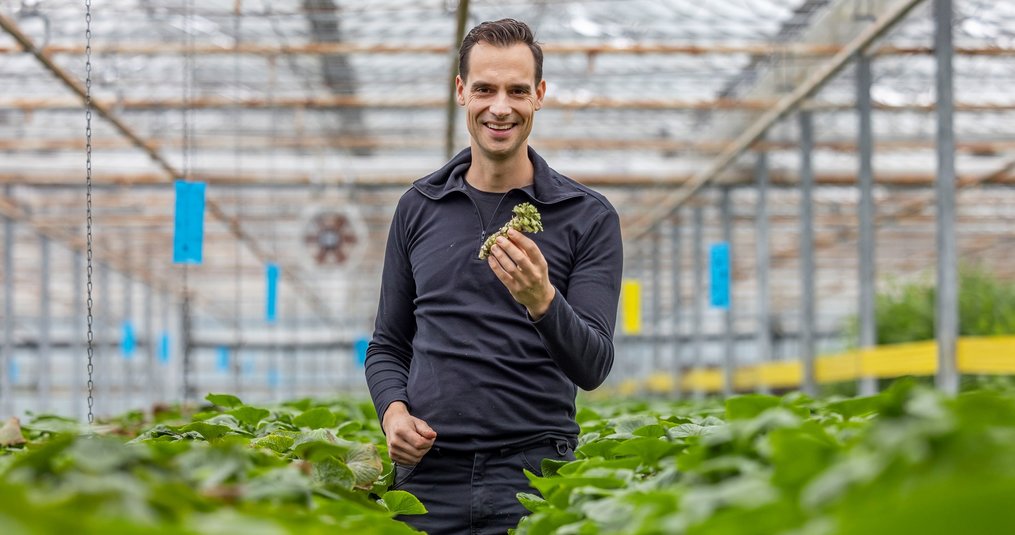 Dutch wasabi was the first company in the Netherlands to start growing wasabi and other unique products. Sander van Kampen traded the office life for hard work in the garden sector: "Growing a standard product such as a tomato would not suit me, I am not driven by that."
Sander van Kampen is the man behind Dutch Wasabi. In 2016, Dutch Wasabi was the first in the Netherlands to start growing wasabi, a plant that poses many challenges. Nowadays, Dutch Wasabi also grows myoga, shiso and ginger in addition to wasabi. Everything but average products: "I've always had a love for creating something that can amaze or surprise someone, whether it's taking a photo or selling a product. Growing a standard product such as a tomato would not suit me, I am not driven by that. I wanted to do something that people would admire. In addition I found it extremely motivating that people said it would probably not work out." Turn your life around and do something completely new, you should probably have lot's of guts. Sander doesn't think so at all: just proactively organize your own life and create your own happiness.
Seeing opportunities
"In an article in a Dutch magazine I learned about imitation wasabi", the green stuff that mainly consists of horseradish, sugar, starch and coloring, "I was intrigued by the article that also told about the complicated cultivation process and the possibilities of cultivation in The Netherlands. I saw an opportunity there." Despite the lack of experience and knowledge about plants, Sander came up with a plan. "I thought: if I can rent a greenhouse and get some plants, I'll just do it." After a long search, he found plants in England and was able to find a modest greenhouse of about 100 square meters. Sander rolled up his sleeves and in 2016 the first plants came into the greenhouse, two years later in 2018 there was the first wasabi harvest. The following year, Dutch moved Wasabi to a larger greenhouse and gradually other products were added. "Something comes my way that I think is really cool and I want to experiment with that. I would like to immediately set up a thousand plants for testing, but a thousand plants are of course not a test," Sander says laughing. "Ginger is one of the successful experiments that is going well and that has received many good reactions." Sander now works with two partners, Elstgeest potplanten and Duijvestijn Tomaten, who support him with knowledge, their network and as a sparring partners. "I consider myself lucky to have all the support from my personal environment and from suppliers."
Challenges
The picky plant is grown in Japan mainly in flowing mountain rivers. Wasabi is not an easy plant to work with for an experienced grower, let alone for an inexperienced grower. How do you satisfy this finicky plant grown in pots? "Because I was the first in the Netherlands, I didn't have any examples. It all started with research. Hours, what can I say - days in a row I read, collecting all the information I could find about the plants." He found a way to grow the plants in the most sustainable way possible, with clean and mineral-rich water. Then all the other challenges that growing plants entails came into play: "EC (salinity), PH (acidity), substrates and those kinds of complicated terms, I had no idea", says Sander now with a laugh, but he has had to endure a lot before he could harvest his first plants. "The first time, most of the plants did not survive. All the plants I had in front of my nose could go". Still, he didn't give up. After two years, the first plants could be harvested: "I barely had 10 kilos in front of me, but I was happy, it was a start."
Being an entrepreneur for Dutch Wasabi is sometimes not fun: throwing away the entire harvest, a lot of things that unfortunately fail or having to deal with viruses or pests. "It is precisely those moments that make the moments when it does work out worthwhile. When you hold a product in your hands, taste it or showing it to a chef, you know what you are doing it for. It is those highs and lows that make this work so enjoyable. I think it's fantastic to make someone happy with your product." Even though Sander might work a lot more hours for Dutch Wasabi for way less money than his former job as an IT consultant it's all worth it: "It's incredibly motivating work and it makes me very happy".
The future
Sander knows which direction he wants to go. "I am very proud of where we are now. We have more and more beautiful products that are growing well and several special new products in the pipeline: "We see ourselves as the Japanese/Asian vegetable garden for (home) chefs. Every year we improve our methods, testing new ways to grow wasabi sustainably." He may have never dreamed that when he occasionally had to throw away an entire crop for the first few years. "Every journey starts with a first step. I had a goal in mind and at the time I wasn't sure how to get there. If I knew the challenges, I will face I may never have started this business, but we just took it day by day and now we are here." What are the plans for the future? Perhaps a slightly more modern greenhouse where various products are grown in one place, as well as a fine dining restaurant where people can enjoy themselves and be inspired. There are many ideas, but we take one step at a time. But if we look at the story of Dutch Wasabi so far, we know anything is possible.