About us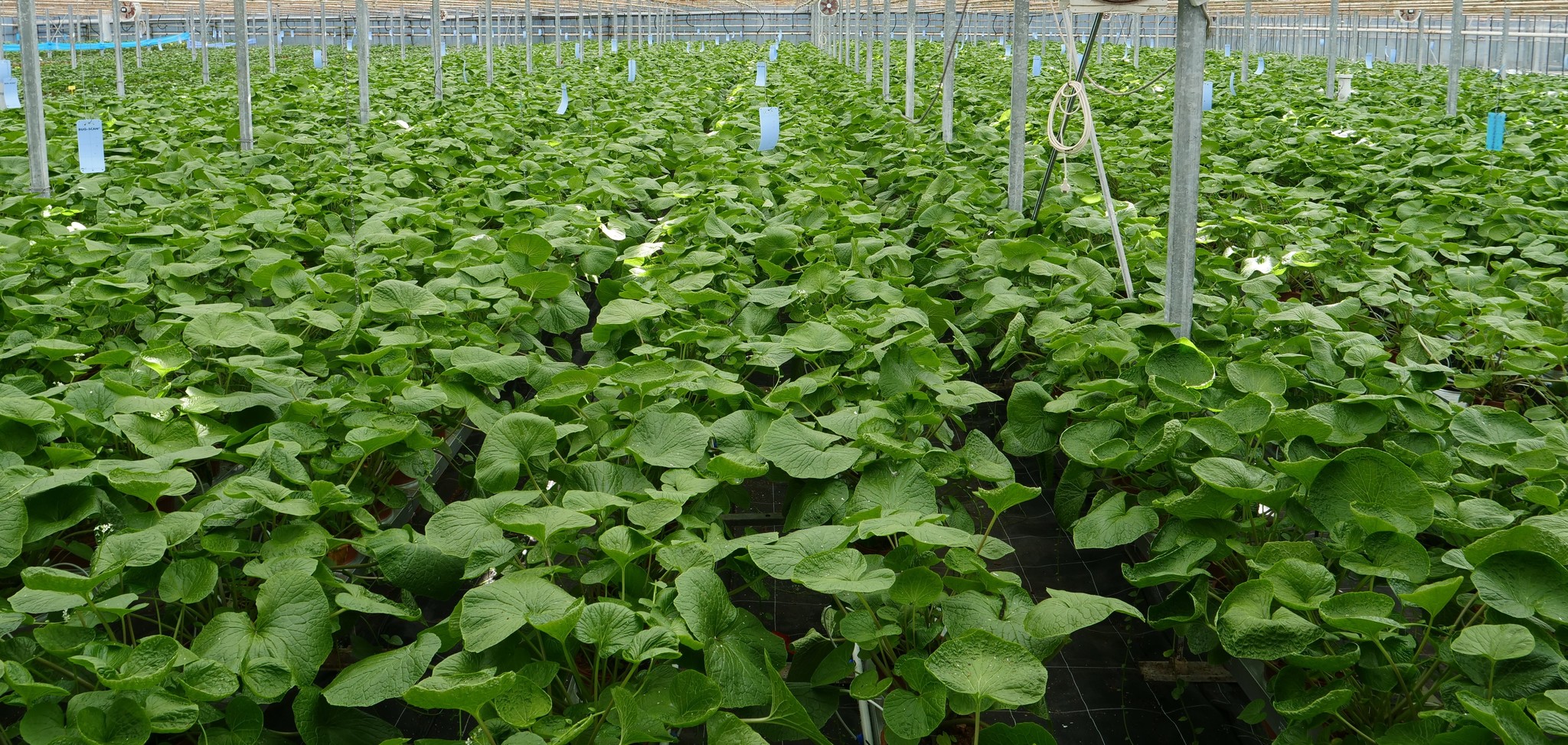 Dutch wasabi cultivation
Wasabi originated in Japan, is grown in Japan for over hundreds of years. Often in shady mountain rivers. At Dutch Wasabi we believe in a sustainable future where products are grown locally as much as possible. In the Netherlands we have all the expertise to realize this. After two years of pioneering, we started in 2018 as the first wasabi grower in the Netherlands.
Dutch Wasabi grows wasabi in greenhouses in Westland region. Wasabi is planted in spring and takes 18 months to grow large enough to be harvested. Fresh wasabi rhizomes have a limited shelf life. Harvesting is therefore done to order.
Biological pest control
Wasabi is very sensitive to pests, fungi and bacteria diseases. In addition, the right climate is crucial. Wasabi is therefore known as a difficult plant to grow. Fortunately, more and more knowledge is emerging about biological pest control. We are also gaining more insight into preventing measures against various diseases. Despite this, growing wasabi remains challenging.
Future
We get motivated by chefs and consumers who are inspired by our products. We offer products that are difficult to find but that have a great history in other cultures. In the coming years we will expand our product range and hope to continue to surprise and inspire. Suggestions are always appreciated.
Collaborations
Collaborating with partners is a crucial part of our business. From the beginning, we have been supported by companies who believed in us. Rungis was the first to distribute our wasabi to chefs in the Netherlands. Rabobank and Hangelunie provided financial support. Biobest offers us the opportunity to grow wasabi in sustainable way and to deal with pests. Wageningen Research Center has conducted research into the cultivation of wasabi for two years and has given us more insight into the cultivation of wasabi. We look forward to the many collaborations that will follow.
Tomatoes, Potted Plants and IT
Dutch Wasabi was founded by Sander van Kampen, Duijvestijn Tomaten and Elstgeest Potplanten. Sander started in 2016 with a small number of test plants. With a background in IT, the transition to horticulture was a big one. Yet it seemed a logical step, he had been living among greenhouses with friends and family as growers for years and had been dreaming of a career as an entrepreneur for years.
Duijvestijn Tomaten and Elstgeest Potplanten started their research into wasabi at WUR in Bleiswijk later that year, together with the WUR and several other companies. Both companies are known for their innovative entrepreneurship with many years of horticultural experience. In 2018, the three of them joined forces at founded Dutch Wasabi.